Metachronos overall score = 8.9 / 10
Positive
- Thousands and thousands of zombies to kill in a myriad of ridiculous ways
- Tons of things to see and try throughout the mall
- Great sense of style
- A plot that manages to be intriguing without intruding too much on the action
- Fantastic sound effects
Negative
- Save system and real-time game structure are frequently at odds with one another
- Copious number of escort missions start to wear thin after a while
- It's not for the ps2
When it comes to zombies, few publishers have more experience with them than Capcom. The company has made a mint in recent years off various iterations of the Resident Evil series, and that franchise shows no signs of slowing any time soon. So, it is with some curiosity that we now find ourselves with Dead Rising, an Xbox 360 zombie game produced by Capcom that has exactly zero to do with anything Resident Evil. Where Resident Evil was a series all about horror, tension, and frequent jump scares, Dead Rising goes in the other direction, creating a pure action experience with zombies that are much easier to kill but travel in higher numbers--
much
higher numbers, actually, with groupings numbering in the hundreds. As a departure from the zombie games of old, Dead Rising is a great success, wonderfully blending campy undertones and visceral, zombie-killing action into something highly playable. It suffers from structural faults, and the game does find itself leaning heavier on repetition than you'd probably like, but Dead Rising overcomes these shortcomings by being a lot of fun to play.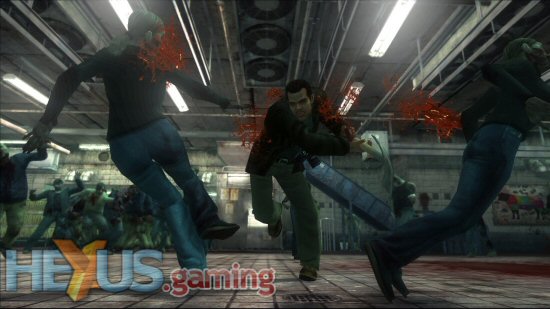 The audio in Dead Rising is even more impressive, thanks largely to the fantastic sound effects. The weapons in particular are top notch. Guns are appropriately booming and blades slice and dice through zombie flesh with a sickeningly awesome gushing sound. However, it's really the blunt objects that are the star of the show. Every weapon makes a totally different sound, and each one sounds exactly
right
. The hollow thunk made by smacking a zombie with a mannequin torso sounds just as excellent as the silly chord-strum-combined-with-loud-smacking sound of an electric guitar connecting with a zombie's skull. It's simply some of the best Foley work we've ever heard. The voice acting is also of high-quality. No actors of note play the characters, but they're each played with the right level of camp. The psychopaths are particularly amazing in their over-the-top performances. The one weak area of the audio presentation is the soundtrack, which never stands out at any point during the game. There are some appropriately tension-building bits and pieces here and there, but most of it is generic and quickly fades into the background. The sole exception to this is the random moments of goofy mall Muzak that play in certain areas, which are picture perfect for the mall atmosphere. It's just too bad there isn't more of it. While not everything Dead Rising takes a stab at works to its benefit, it's still one of the more unique and enjoyable games on the Xbox 360. There aren't many games that give you the level of pure, bizarre variety that this game does, and its splendidly brutal yet entirely silly brand of action is too much fun to ignore. Some people are undoubtedly going to be severely put off by the constant battle between the game structure and save system, but no amount of structural missteps manage to derail this ride. It's zombie action for people who want zombie
action
, and it's simply a great piece of entertainment.