http://www.reghardware.co.uk/2008/02/07/psp_pants_fire/
A 12-year-old boy was yesterday treated in hospital for
second-degree burns after his Sony PlayStation Portable apparently
spontaneously combusted in his trouser pocket.
Young Harold Clay was at school - Warner Middle in Farmington Hills,
Michigan - when the incident took place. At 9am yesterday morning, the
strides-stowed console suddenly became intensely hot, setting light to
the boy's jeans, local newssite ClickOn Detroit
reports
.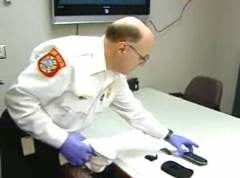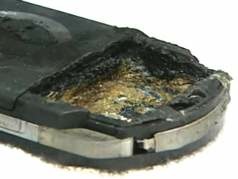 Harold Clay's burned PSP
Images courtesy Local 4 News
The PSP managed to burn right through Clay's clothing before a
teacher got it away from the lad. The youngster was taken to hospital
for treatment but was able to return to school later that day.
Emergency services attending the conflagration later said the fire
appears to have begun in the PSP's battery compartment, suggesting the
handheld console's power pack overheated. Police are still
investigating the incident.
Clay's father later told reporters the console had not been switched on at the time.
And the name of the game loaded onto the machine?
Burn Out Legends.