Nintendo Wii score = 8.4 / 10
Xbox 360 score = 8.0 / 10
Positive
- Matchless, amazingly crafted gameworld
- Fantastic, funny dialogue
- Great voice acting and overall sound design
- Solid extra content
Negative
- Some of the motion controls don't work out that well
- Inconsistent frame rate and other minor annoyances
Provided that you play on the Wii or escape the wrath of the Xbox 360 version's bounteous bugs, you'll find an insanely entertaining experience that overcomes its small gameplay frustrations with heavy doses of humor and attitude. As new-kid-on-the-block Jimmy, you find your sneering self dumped at Bullworth Academy, a private school populated by the usual cliques we all came to know and hate in our own adolescences. By fulfilling missions, you'll progress from one chapter to the next, alternately gaining sway over one social circle while alienating another. One of Bully's many brilliant aspects is the variety it throws into these tasks. At one point, you'll man a potato-spewing turret to defend arm-flailing, bedwetting nerds from invading jocks; at another, a professor instructs you to infiltrate the preppies' dorm and kill a prized Venus flytrap. In fact, some of the most amusing missions were created specifically for the Scholarship Edition and revolve around a Kriss Kringle gone bad.
He's good at doing that
If you've played Bully already on the PlayStation 2, the extras in the Scholarship Edition may amuse you, but they don't justify purchasing the game all over again. On the other hand, if you skipped it the first time around, this is a great excuse to catch up on what you missed. Bully offers plenty of memorable moments and crafts an adolescent world that is both surreal and painfully truthful, so don't be surprised if it causes you to relive portions of your own painful youth. Xbox 360 technical issues and other peculiarities aside, this is a fun and boisterous game that will ring true for anyone who has endured the unique adventures of student life.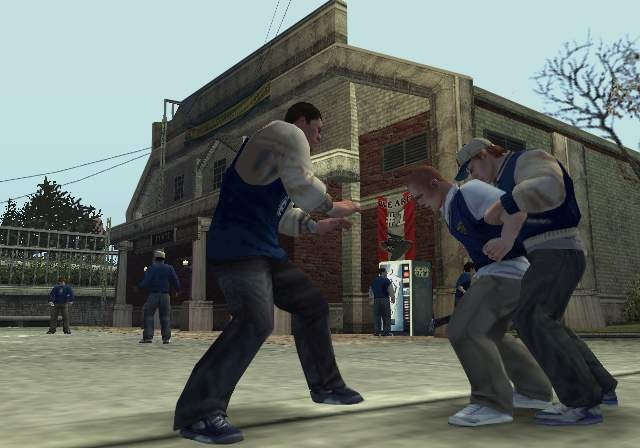 _________________
Most of my reviews are taken from
www.gamespot.com
I shorten them and find the most important parts as their reviews are over 3 pages long which can be a burden to read and the screenshots are taken from the internet