GOD's score = 9.5 / 10
Positive
- Super cool weapons
Outstanding presentation with plenty of action
- Great visuals and sound
- Great story
Negative
-
Some enemies love to sneak on
-
Some minor control problems
Itís been more than 10 years since Capcom released the first Resident Evil on the Playstation. This series hasnít always been to the top. It has some of the best games on the platform and some really disappointing ones. But this one has a lot to offer. It was first released for the GameCube 8 months before being released for the PS2. Resident Evil 4 made a great impact on the GC and made a great one on the PS2 too.
The main character in RE4 is Leon. Do you remember him? He was in Resident Evil 2. After 6 years he is on a mission, and heís searching for the presidentís daughter which was kidnapped by some unknown people. The game takes off, but explaining some things and then we see Leon in a car with 2 cops. There are many zombies to kill with different weapons. And some puzzles too. The way to buy in the game is a little different from others. The first time you encounter Ďthe merchantí, he will call you and you go to him if you wanna buy. Just don't kill him. For some reason he has some powerful weapons like the rocket launcher from the beginning, even though itís too expensive to buy. There isnít too much space to place items and stuff in your arsenal. Even items and seem to cost to much. But money may not be a problem. You can get money by entering in houses and find boxes and smash them or by killing enemies. But the weapons there are are cool and nice. Enemies attack you mostly in small groups. Youíll rarely encounter one enemy at a time. This may become challenging. Some zombies take more than 4 or more shots to kill with regular guns. Some of them may attack you in close-quarters or sneak up on you may become tough to kill them once behind you. Especially thanks the controls that you have to get used to. When aiming you canít move. You have to keep holding the R1 button to get the red laser on. Once you targeted press X to shoot. You can also use the L1 and X button afterwards to hit close enemies and to destroy boxes. Also you canít run without holding the O button. Some may find this a Leon a little slow if you donít press the O button. But if you played Resident Evil before itís easy to get used. For others, maybe it will take some time but controls arenít really that hard to remember.
Resident Evilís 4 impressive presentation makes it worth playing for everyone. In the end RE4 has a lot to offer for fans and even newcomers. Difficulty is stable and to very tough at the beginning even though, there are some rough places, but nothing really hard. RE4 is the best horror game yet on the PS2 is itís strictly recommended to anyone who wants some scars and some zombie shooting.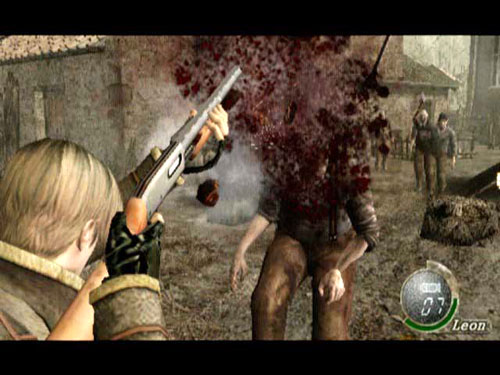 _________________
Most of my reviews are taken from
www.gamespot.com
I shorten them and find the most important parts as their reviews are over 3 pages long which can be a burden to read and the screenshots are taken from the internet