Metachronos overall score = 6.4 / 10
Positive
- Anime-like storyline ties the action together fairly well
- Great explosions
Negative
- Bad frame rate
- Boring gameplay
- None of the available control schemes make flying around easy or fun
In the game, you fly as a guy named Katana. You're one of the Terrans, and you fight for the side of Earth. At the other end of the conflict is the ADAN resistance, a group of humans from other worlds who have joined together to fight what they see as tyranny on the part of Earth's government. As the story progresses, you'll protect your carrier against ADAN attacks, take the fight to the ADAN forces, and ultimately destroy ADAN's Death Star knock-off. Along the way, you'll get cutscenes that deal with a few of the interpersonal relationships. In true anime fashion, the ace pilot on the other side is a mysterious figure from your past, which makes the conflict feel a bit more personal. The storyline isn't terrific, but it moves the action along in ways that usually make sense.
Though the game's harder difficulties require you to be a bit more on top of things, most of the game is spent lining up shots with your HUD and targeting computer, and firing homing shots to take care of business. The only thing you really have to worry about is making sure that your support ships or the ships you're escorting don't get shot down. On top of all that, the game is quite short, and it's probable that most players will get to the conclusion of the story in around three to six hours of flight time. Obviously, raising the difficulty stretches that time out, but fighting tougher foes doesn't really make the gameplay any more rewarding.
While modern game machines haven't seen very many space shooters like Project Sylpheed, this one probably isn't going to satisfy anyone looking for a Wing Commander or X-Wing-like game because it's just too basic to hold anyone's interest for very long. At the same time, anyone looking for a basic shooter will probably be put off by the needlessly complicated controls.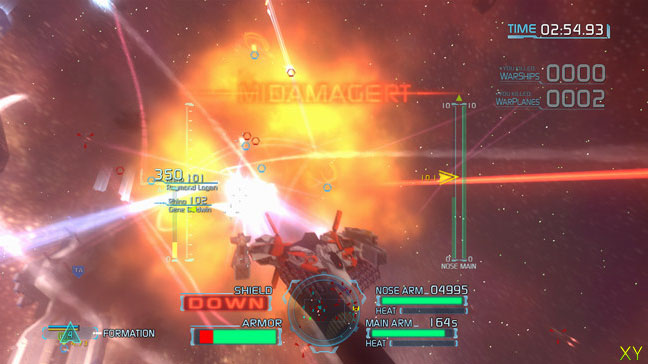 _________________
Most of my reviews are taken from
www.gamespot.com
I shorten them and find the most important parts as their reviews are over 3 pages long which can be a burden to read and the screenshots are taken from the internet