Metachronos overall score = 8.4 / 10
Positive
- Compelling story will keep you hooked for the entire 50-plus hours it takes to finish the single-player campaign
- Full-featured toolset lets you easily create and share new modules
- This is just about the most authentic representation of Dungeons & Dragons you'll find in any game
- Excellent music and mostly well-done voice acting
- The interactive dialogue and influence system make for dynamic and entertaining character interactions
Negative
- Really annoying camera
- System hog and not bad graphics
- Artificial intelligence doesn't always cooperate
As great as the story is in Neverwinter Nights 2, it's difficult to convey without spoiling the plot; but suffice it to say that it will keep your interest throughout the entire campaign--which, at around 50 hours long, is no small feat. You begin the game by creating a character. You can choose a race, subrace, appearance, class, moral alignment, and even a voice for your hero. After you create your character, you are taken on a journey that will see you rise from your beginnings as a humble peasant to become one of the most respected and elite heroes of Neverwinter. It's a long journey that involves the awakening of an arcane and unstable evil power that only a chosen savior (guess who?) can banish. As cliché as it sounds, the story reaches far beyond the usual good-versus-evil plot. You'll get a heavy dose of political treachery; shattered, shifting, and solidified alliances; ethereal mysticism; dark secrets; and much, much more. In addition to the main story, the world is full of side stories that you can explore or ignore as you see fit. It all adds up to make this feel like a real world with real history and very real inhabitants, but beyond even that, the game does a great job of making you feel like an integral part of that world, rather than some insular hero who comes out of nowhere to save the day and then disappears.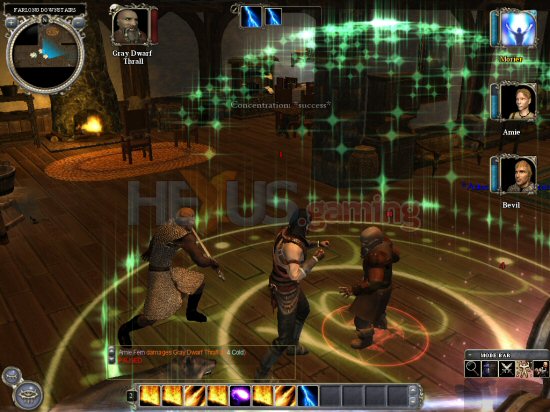 For the most part you'll use those skills and abilities to combat all kinds of monsters, people, spirits, and animals that always seem to get in your way. The combat takes place in real time, but you have the option to pause the game and assign up to five successive actions to each of your characters. Then it's just a matter of hitting the space bar to unpause the game and watching your characters go to work. The most frequent battles don't usually require that level of management, though, because you'll almost always come out on top by just rushing into a mob of enemies and letting the artificial intelligence do the work. If you do happen to lose all your health you'll be temporarily knocked out (despite the cobwebbed corpse icon that replaces your character portrait). As long as one of your characters survives the battle your party will revive, and then you can use the rest function to fully replenish your health in just a few seconds.
This game sounds much better than it looks. There's a ton of voiced dialogue in the game, and although some of the voices are annoying, all of the main characters sound great, and their respective voices lend each one a lot of personality. From the sinister-sounding evil wizard to the feisty young demon girl, the voices all sound appropriate and fitting. The music is excellent, with dramatic orchestrated tracks that sound as if they could be taken right from a big-budget Hollywood film. The music does a great job of setting an appropriately grandiose and bombastic backdrop for your adventure, without being overwhelming. If you're willing to look past a few relatively minor technical issues, you'll have a great time exploring the world of Neverwinter Nights 2. The excellent story, characters, and quests will appeal to your sense of adventure without getting overly convoluted. The many paths you can take through the lengthy single-player campaign are enough to make this game worth your money, but when you factor in the multiplayer and the editing tools you'll find that Neverwinter Nights 2 is a fantastic value and a thoroughly enjoyable game.