Score = 8.7 / 10
Positive
- Superb presentation with plenty of memorable characters
- Great voice acting
- Outstanding visuals and sound effects
- Gorgeous environments
- Story is pretty engaging
Negative
- Story might be difficult to follow
Onimusha 3: Demon Siege is a great, and engaging game. It might have same puzzles or combat as the previous installments, but some minor improvements and its great story make it worth seeing.
The game starts off with a cutscene in modern era. You'll see a person talking in a strange language, maybe its French, but I don't speak French. Anyway, then you'll take control of Samanosuke, at a temple where Nobunaga is. There is a cutscene, you fight some enemies and then the story begins. There are 2 main characters, Samanosuke, a samurai, and Jacques, a person from France. Story is truly engaging and good length, but sometimes is difficult to follow, since there is too might time traveling. You end up seeing the same character in both time. It came up to this. Samanosuke ended up in France, and Jacques found himself in 5000 years behind his time in Japan.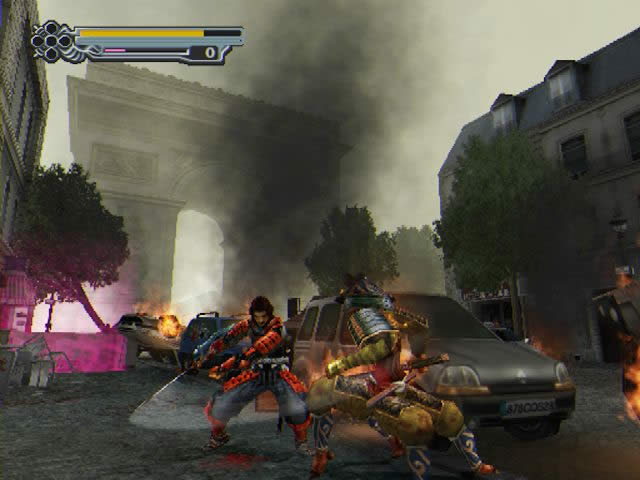 Onimusha 3 has some really good cutscenes, which cannot be skipped. Voice acting is pretty impressive. Cutscenes aren't so long and most of them are good and interesting. Combat is neat too. The thing is that you control the player the game gives you, you can't change. There are some moves that you'll learn throughout the game. When you end up in a place its not difficult to figure out where you have to go since places are generally small. Throughout the game you'll encounter a large amount of genma. These are mostly the enemies you'll encounter. Some interesting and unique boss fight are there too. Still those have little strategy, since the main objective is to either destroyed him, kill him or beat him. Normally bosses are one alone. You might also encounter some puzzles when playing the game. These are normally easy and some of them, which mostly are boxes can be skipped. If you solve the puzzles, you normally obtain something you don't find in a regular treasure chest. Something rare.
This game itself is very good. Onimusha 3: Demon Siege is as great as the previous installments, if not better. There are tons of enemies and great cutscenes which will interest many fans of action games. Onimusha 3 almost got everything right, and this game is worth playing for anyone, of any genre.