Score = 6.7 / 10
Positive
- Cheesy-awesome story
- Big maps with lots of strategic possibilities
- Cover system is a unique, enjoyable mechanic
Negative
- Awful camera
- Ugly visuals
- Missing basic features
Operation Darkness has no business being as enjoyable as it is. It's got the worst camera ever seen in a tactical role-playing game, some of the the worst visuals of any Xbox 360 title, and a number of irritating design flaws that will make you cry out in frustration. But give it time: Once you overcome the annoyances, you'll find some unique game mechanics and a rewarding succession of large maps to conquer. No, Operation Darkness is not an RPG classic, though it's tempting to assume that any game featuring Adolf Hitler and dragons (together at last!) is a must-play title. Perseverance is rewarded, and if you make it through the first couple of levels you'll inevitably feel the game crawling under your skin, pushing you--against all odds--to make another turn.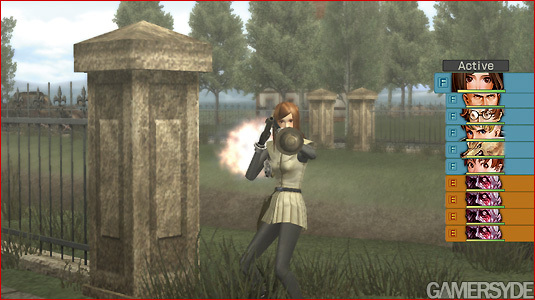 A lot of credit is due to the story, which is a cornball fantasy take on World War II. In this alternate history, lurching, lumbering zombies take potshots at werewolves, and Jack the Ripper slices up vampires with surprising speed and agility. These sights are commonplace for your adventuring party, a British special forces unit made up of a few lycanthropes, a fire-wielding maiden, and a nerdy scientist that can raise the dead, among others. You'll meet the most bizarre characters and enemies, who are in turn woven even more bizarrely into true historical events. It's all quite cheesy and cliched; we've heard the werewolf-versus-vampire legend a million times, and the supernatural take on World War II's been done already. Nevertheless, Operation Darkness merrily tackles its concept with melodramatic vigor, and the voice actors convincingly deliver the hilariously unrefined dialogue without a hint of irony.
Basic gameplay is standard for most tactical RPGs: Each character in your party takes a turn, during which he or she can move, attack, or perform special abilities. However, there are some nice additions to the formula, the most obvious of which is the cover system. The most basic of these maneuvers is the cover move, in which you can get a particular character to move further by tying his move to that of a faster character. The more useful abilities, however, are cover attack and cover ambush. When set for a cover attack, a character will assist other characters whenever they attack; in cover ambush, your characters will shoot at enemies whenever an enemy in range takes a turn. All three of these moves, when used intelligently, let you dream up large, sweeping strategies that you wouldn't see in other SRPGs.
You'll also rely on a few other important moves. Each character has limited inventory space, though you have separate inventories for weapons and items. Characters can use healing items automatically when they die--or are close to death--and it's not uncommon for a party member to fall in a single hit. Thankfully, you can loot fallen corpses on the field. This is an important feature, not just because you will need healing items and ammo, but because the most effective weapons are found on the bodies of your enemies. For example, should you run out of rockets for your bazookas and you're cornered by two looming tanks, you can nab Panzerfaust antitank weaponry from your enemies' lifeless husks.
You play with up to three others on stand-alone maps via Xbox Live, though you will be controlling fewer characters yourself when doing so. Online works just fine, though it isn't any more compelling than the single-player, where the splendidly ridiculous story nicely glues the missions together. Whether you should play Operation Darkness depends on your level of patience. The horrendous camera and dingy graphics may turn you off, but if you stick with it, you'll find that there's a game worth playing lurking underneath them. And Nazi vampires driving tanks.